Our top tips for improving your ski technique in any piste condition:
Are you dreaming of being an all-mountain skier and mastering any terrain whatever the snow conditions? Can you get down a red or black run but are worried about moguls and ice? Or maybe you want to keep up with the other skiers on our solo ski holidays ? No matter what your level is, there is always room for improvement, leading to greater confidence and greater enjoyment. Read on to find out Single Parents on Holiday's top tips on perfecting your ski technique in all piste conditions and becoming an all-mountain skier.
Powder snow and off piste skiing: stance, speed and rhythm
Off piste skiing is the holy grail of skiing, yet a challenge even for the most advanced skiers. But there is no denying that it is any skier's ultimate adrenaline kick. To master powder and off piste skiing, the right technique is crucial:
Instead of keeping your skis wider as you do when carving on a bashed piste, keep them relatively close together to create a wider platform. This gives you more control over your skis.
Always put your weight on your lower ski, as the lower ski dictates your direction and movement. Keep your arms wide and slightly in front of your body as you would when holding a large map.
Don't lean back (that's a myth!) or you will lose control. Instead, keep your tips slightly up, stay centred and keep your core straight.
Make sure you get into a rhythm of taking turns to help you take the energy from one turn into the next.
Deep snow slows you down, so it is important to maintain speed. Otherwise, you will not be able to float to the surface between turns making it difficult to initiate a change in direction.

Mogul skiing:
Moguls are great fun and a real treat for advanced skiers. Make sure that you are fit for skiing as moguls really work your legs. The technique required for skiing moguls is very different from carving on a prepared piste:
You need to narrow your stance and lean slightly forward pushing with your shins on the front of the ski boot.
Your core should remain stable letting your legs absorb the bumps.
Start at the top of the mogul, then turn around and into the bump.
Keep your knees bent when you start on the mogul and stretch your legs when turning. Get into a rhythm.
Focus on short turns to navigate the snow moguls and always put pressure on the edge of your skis.
Moguls come in many different sizes, spacings and snow conditions and piste gradients can vary greatly. Hence, it is best starting with smaller moguls on a red piste and then practise, practise, practise.

Icy steep pistes: control your speed and don't panic
Ice is difficult to ski on and not just beginner skiers panic at the sight (and the sound!) of an icy piste, especially when it is steep. In icy piste conditions, it is crucial that the edges of your skis are sufficiently sharpened to give you a good grip. Without sharp edges, it is literally impossible to master icy steep runs. And this is how you ski icy slopes:
Start by bending your knees to lower your centre of gravity.
Put pressure onto your edges to give you the best possible grip on the slippery ice.
To ensure that you don't lose balance, keep your skis wider than you would on a less steep slope and start at a slow pace.
Try to control your speed to ensure that you can break easily whenever needed.
Take large turns to stay in control of your speed and take regular breaks if you feel you are getting tired and are losing your balance.
Don't panic!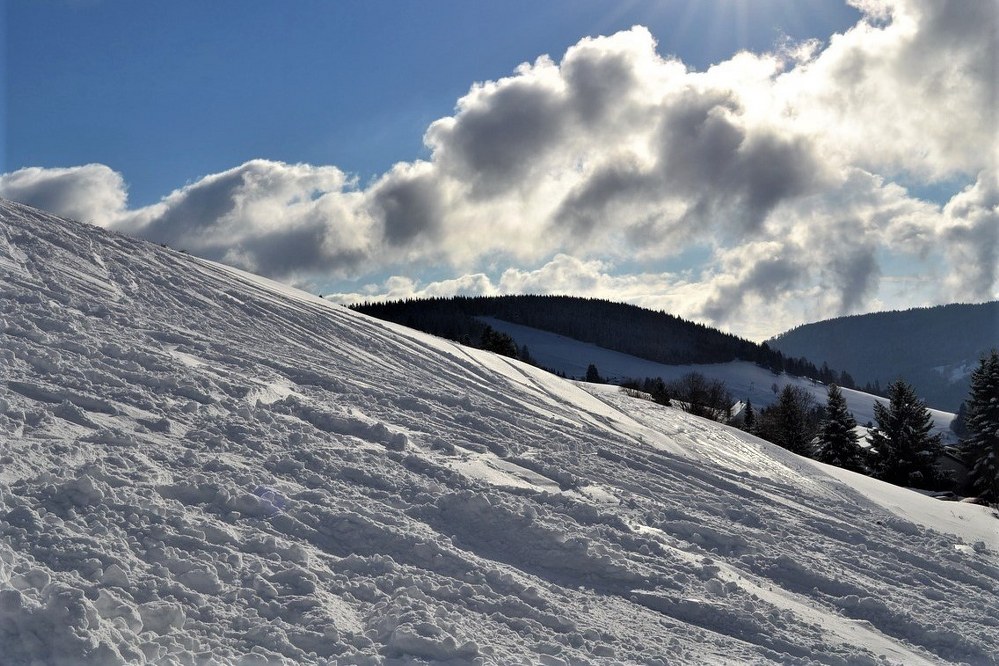 Slushy snow conditions:
As the snow warms the sun, it turns from powdery and light to wet and heavy acting as somewhat of a shock absorber. If you love skiing in the spring, it is inevitable that you will encounter slushy snow, especially on the lower slopes and as the day progresses. It might take a while to get used to the slush and you will need to change your technique yet again, but once you master it, you will love Easter skiing:
Tackle the piste by taking big round turns and be patient, as it takes longer for your skis to move in the heavy slushy snow.
Keep your skis quite close together with equal weight on them, and keep your arms held out to maintain balance and stability.
Always keep your body upright, don't lean backwards and make sure you are centred on your skis, again to ensure that you don't lose balance.
Use warm weather wax to ensure your skis run as smoothly as possible
Slushy snow makes your leg muscles work much harder than perfect snow conditions, so ensure that you are fit and that your quads are in good shape before you hit the slopes in spring.
There are ups and downs to different snow conditions but if you can master them all, you will learn to love them all. Just remember to use the right skiing techniques depending on the snow conditions and use every opportunity to practise and you will soon be an all-weather, all-mountain skier.
If you haven't already booked your next ski break, have a look at our fantastic  solo ski holidays and single parent  ski holidays.