Group ski holidays for single parent families
At Single Parents on Holiday we understand that taking your children skiing on your own can seem somewhat daunting, especially if you haven't skied before or if your kids are still quite young. But you needn't worry if you book a single parent ski holiday with us: All our single parents are in the same boat, and our team members will take care of everything, so that you can  have a fun and stress-free time with your kids on and off the slopes. Check out our single parent ski holidays 2023/2024 in Austria:
Our single parent ski holidays 2023/2024:
10 to 17 February 2024: We will stay at this fabulous 4-star family hotel with spacious double rooms and junior suites, large indoor pool, spa, and excellent kids facilities incl. a large play house with trampoline, soft play area, slides, climbing tower, etc. and childcare 7 days a week. Our hotel is only 5 minutes drive away from the lifts  and we will take a private shuttle to the slopes each morning.
30 March to 6 April and 6 to 13 April 2024: Our superior 4-star ski in/ski out hotel is directly opposite the slopes at 1,750 m and boasts a family pool, wellness area, adult only rooftop pool and spa, staffed kids' room, indoor forest playground, teen lounge, ski storage, and  much more! It's the perfect destination for a single parent ski holiday at Easter!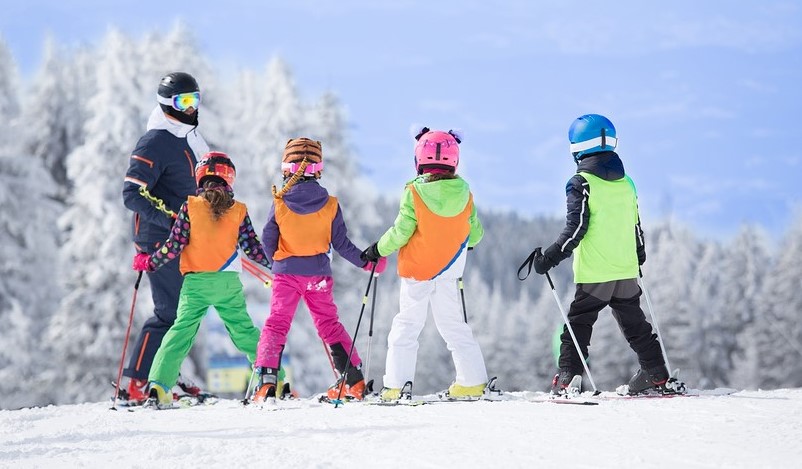 Why book a single parent ski holiday with Single Parents on Holiday?
First class service:
We have offered single parent ski holidays with kids since 2007 and pride ourselves on our expertise! Our holidays are accompanied by one or two of our experienced team members who will organise your airport transfers, greet you at the hotel and introduce you to the other single parent families. Most importantly, they will do all the planning for you, from arranging your lift pass and equipment hire to pre-booking group and private ski or snowboarding lessons. If you are an advanced skier or feel you are past the stage of requiring ski lessons, you can, of course, join your hosts and the other single parents for some group skiing or snowboarding. We will ensure everyone has company on the piste and off the piste.
4-star hotels with excellent facilities:
Our 4-star hotels are usually directly on the piste or a short walking distance away. If we choose a hotel that is further away, we will offer a shuttle service to the piste in the mornings to make sure you start your day fresh and relaxed. Facilities vary from hotel to hotel but usually include an indoor pool, fitness room, spa and kids room. Naturally, we try to choose hotels with kids facilities to keep the younger guests entertained in the late afternoon/evenings when our families return from the slopes. So, one or two of our hotels in our single parent ski programme will have a kids room with qualified staff that will look after the kids at set times so that you have the option to ski or snowboard even if they kids don't want to ski that day, or even have dinner and drinks whilst your kids are looked after. On some of our single parent ski holidays we also include an evening child minder who keeps the younger kids entertained allowing the parents to enjoy dinner and drinks and get to know each other.
Company of other single parent families:
Single parent ski holidays are a very sociable affair! The kids love the fact that they have instant playmates in the group and at ski school, and the adults bond over dinner and drinks. Of course, some of our single parents will also ski together during the day, either through ski school or the guided skiing your Single Parents on Holiday host/s will provide. There will also be other activities, our single parent families can enjoy together, such as tobogganing or ice curling. Our ski hotels usually have around 40-50 rooms so you never lose sight of the other families and can spend a lot of time together if you so choose.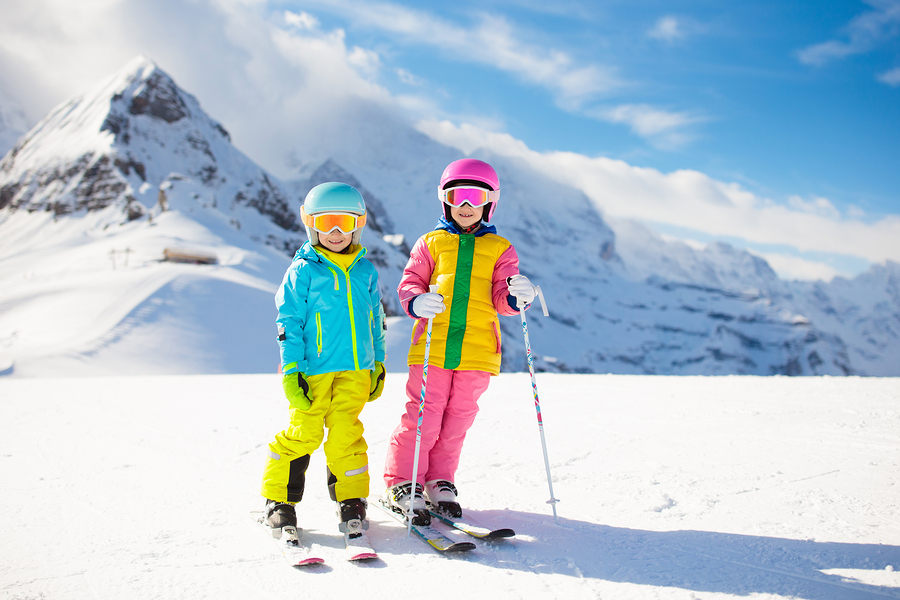 Why ski in Austria?
Our top ski destination, Austria, offers excellent standard of accommodation, lift systems and ski schools, and is far superior to ski resorts in Eastern Europe and Scandinavia. From our personal experience, Austria is the ideal ski locations for this type of holiday as you get much more for your money than you do in, France or Italy, for example, where standards are hit and miss and facilities are often less child-friendly. From the rustic villages to the buzzing towns, we love Austria and all Austria is famous for !
Do I need to be fit to ski or snowboard?
Many of our single parents worry about their fitness levels or their age. Those days when they used to go to the gym in their lunch break or after work is something of a distant memory. Hence their worry is not unjustified. But it is never too late to get fit for the slopes with ski exercises to strengthen core and thigh muscles. This can massively increase your enjoyment of your ski holiday. These exercises need to be carried out for a minimum of two to three times a week over a period of at least 6 weeks prior to your ski break. Even if you are generally fit, you will benefit as your legs will surely feel the strain after a few days. It really doesn't take too much effort to get fit for the slopes, so unless you have any specific health issues that prevent you from skiing or snowboarding, you should be perfectly capable of trying either.
What if I am a beginner skier?
You are never too old to learn how to ski! Skiing is a fantastic sport for all ages and once you are hooked, there is no going back. Some of our single parents are complete beginners or had a long break after having kids so you will not be the only beginner. The ski schools we cooperate with on our single parent ski holidays offer beginner classes for adults of all ages and you will find that many of the other adults are parents your own age. Your Single Parents on Holiday host will be there to help you book the right class and get you and your kids settled in ski school. We only use reputable ski schools employing qualified ski instructors with many years of experience, and most of our single parents can master any blue and some red runs by the end of their single parent ski holiday. If you are unsure which of our single parent ski holidays is best for you and your children, or if you have any question about what you need for you first ski adventure, contact us. We are here to help you prepare for your first family ski trip.
What if I am an advanced skier?
Our single parent ski holidays are perfect for any parents who are advanced skiers and want to hit the piste with other skiers of the same level of ability. Skiing is a social sport after all and much more fun in a group than on your own. Your Single Parents on Holiday hosts will ski with the intermediate and advanced skiers in the group whist the children are at ski school to ensure everyone has company on and off the piste and gets the most out of their ski holiday. We only choose the best ski regions in Europe that offer a wide choice of runs, including some black runs to keep our advanced skiers challenged.
What do I need to pack for a single parent ski holiday?
Going on a single parent ski holiday requires a little bit of planning. Here is everything you need to bring on your first family ski holiday with kids. If you have any questions about what is provided at the resort or what else you need to pack, please do not hesitate to ask a member of the Single Parents on Holiday team.
What if I want to ski without the kids?
If you feel hesitant and want to hone your skiing skills before you take the kids away on a ski break, then why not go on one of our singles ski holidays? These are ideal for any single parents whose kids have grown up or who are able to enjoy the luxury of going away on their own without the kids. Check out our ski programme for solo travellers here:
Single ski holidays 2023/2024 (no kids, adults only):
Singles ski holiday in Hintertux, Austria (glacier skiing): 9 to 14 December 2023 (5 days): Treat yourself to 5 nights at a wonderful 4-star hotel close to the cable car station, with spa over 2 floors, pool, fitness room and squash court and have reserved single rooms for our group of solo skiers. You can ski all year round on 60 km of well prepared pistes.
Singles ski holiday in Obertauern, Austria: 27 January to 3 February 2024 (7 days): This is our second single ski holiday in this beautiful ski in/ski out. Our superior 4 star hotel boasts an indoor family pool and spa, brand new adults only rooftop pool and mountain spa and an all-day dining experience starting with a lavish breakfast buffet, followed by a lunch buffet, après ski snack, and 5-course gourmet dinner in the evening.
Singles ski holiday in Kitzbühel, Austria: 17 to 24 March 2024 (7 days): This is the third time we are taking our solo travellers to one best ski resorts in the world: Kitzbühel never ceases to impress with its state-of-the-art cable cars and chair lifts, reliable snow conditions, and beautiful mountain huts. For this group ski holiday our solos will stay at in spacious double rooms for single occupancy at our excellent 4-star hotel 5 minutes from Kirchberg cable car station, the main entry to the vast Kitzbühel ski region.
Singles ski holiday in Zürs am Arlberg, Austria: 6 to 13 April 2024 (7 days): This 7 -day 'single without kids' ski holiday is a new destination in our ski programme. Zürs am Arlberg is part of one of the best and largest connected ski regions in the world. Our 4-star boutique hotel is located right by the slopes, so you can enjoy a snow safe ski in/ski out experience in one of the trendiest ski resorts worldwide.