Everything you need to pack for your kids' first ski trip:
Are you new to skiing? Or did you last hit the slopes in your 20s – long before you had kids? If you or your kids are beginner skiers, it helps to know what's worth spending money on and where you can save a few pennies when it comes to kitting out your kids for their first ski holiday. Children don't necessarily need the best ski gear on the market, but there are practical items that are well worth investing in as they will keep the kids comfortable and happy – essential if you want to get a few hours of skiing in as well.
At Single Parents on Holiday, we understand that only too well, and so we have compiled a list of everything you need to pack for the kids – whether you are going one of our single parent ski holidays or your first ski trip with family or friends.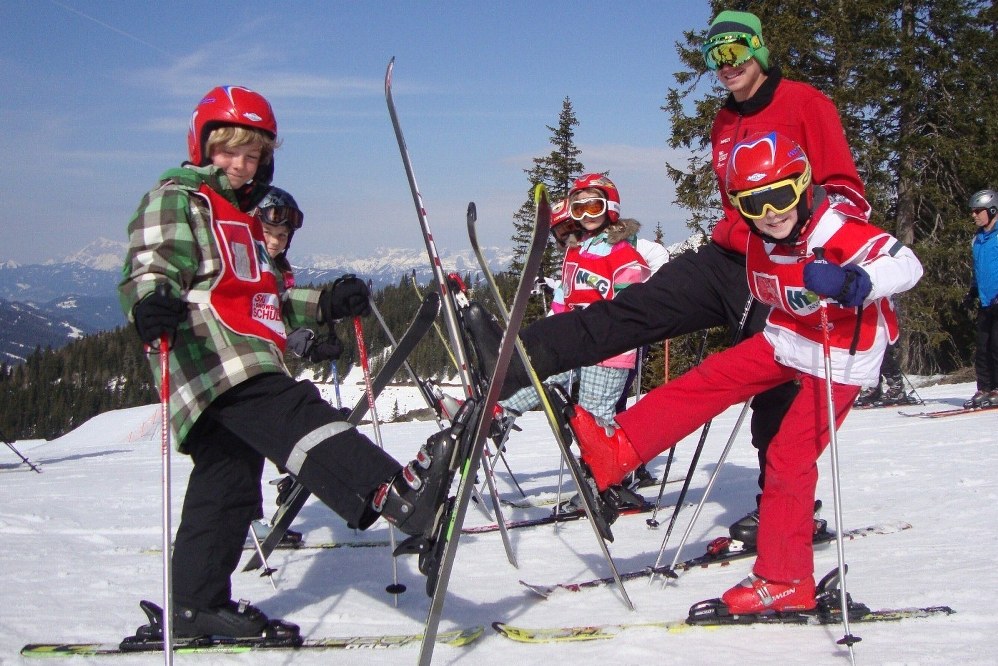 What to buy or borrow for your kids' first time on the slopes:
Whether your ski holiday lasts a week or just a few days, pack plenty, so that your children can add a layer if it gets chilly – layers are a great way to keep warm and dry. Also bear in mind that our kids will need a lot more change than usual due to sweating or clothes getting wet in the snow and not drying in time for the next day. This is where material is important: Clothes should be breathable enough to wick away any moisture but insulating enough to keep the kids warm. Merino wool and synthetic materials are ideal. Here is what we would pack for our kids:
Base layers: Pack lots of thin base layers made from moisture wicking material s. above. You don't need to go to a sports shop for these.
Mid-layers: Bring a couple of fleeces to wear over the base layer/s. No need to spend much on these.
Ski trousers: Buy waterproof and breathable salopettes or ski trousers. Salopettes are great for young kids as they stop the snow getting into trousers and jackets when kids take a tumble on the slopes.
Ski jacket: Waterproof and breathable ski jackets should ideally come with a powder skirt, thumb loops and snow cuffs to keep the cold and snow out. Technology has come a long way since I first skied in my teens, so don't be put off by thin jackets. Look at the performance description instead which gives points for breathability, water / wind proofing, and insulation. Also, check that the jacket has lots of zip pocket – for snacks, ski pass, money, tissues, etc.
Ski socks: They are comfortable, fit snugly and offer support under the instep and arch and cushioning where the shin meets the ski boot. It pays to invest in these to help prevent ski boots chafing kids' sensitive skin.
Ski gloves or mittens: Don't make the mistake on saving on this item. Kids often complain about cold hands in ski school – not least because parents bought cheap / inadequate ski gloves that get wet and cold inside. Check features such as insulation and water proofing, and, if in doubt, about the ones you bought, take a pair of thin inner gloves with you on holiday as well as some reusable heat hand warmers that you can put into your kids' pockets to warm their little hands and that will help to dry the gloves overnight.
A ski gaiter/snood: Unlike a scarf that might end up lost or in your kid's face during skiing, this neck warmer sits snugly yet loosely around the neck providing warmth without restricting the child's view. Best of all, when it gets very cold, your son or daughter can pull it over their nose to keep warm and snug.
Ski goggles: Essential to protect sensitive kids' eyes from harmful UV rays, which are stronger at high altitude. Ski goggles also help with visibility when it snows, or when the sun bounces off the bright whiteness of the snow – sun glare can actually burn the surface of your kids' eyes. Goggles also work better with helmets than sunglasses do, and kids don't grow out of them as quickly as their salopettes. Go for a middle of the range pair – your kids don't need the high-performance lens quite yet (their eyesight is usually better than yours), but the cheapest usually offers less visibility and protection.
Helmet: It may not be a legal requirement to wear a ski helmet on the slopes, but most ski schools in Europe require kids to wear one during lessons. And let's be honest, they are a no brainer if you want to protect your little ones from head injuries. You can hire helmets in many ski  shops in Europe as part of your kids' ski hire package, so they are not usually worth buying if your kids are first time skiers (and might not take to skiing).  Also bear in mind that their heads still grow, and that helmets are bulky items that take up a lot of space in your suitcase. It's best to find out before you go on holiday, if the local ski school expects your child to bring their own, or if you need to buy a ski helmet before you leave.
Sun block/sunscreen/lip balm: Protect your kids' sensitive skin from harmful rays. You will be surprised how quickly the kids will burn at high altitude, as early as February, but more so late in the season. Lip balm with SPF is also highly recommended against cracked lips and cold sores from sun and wind exposure.
Energy snacks: Kids' sugar levels drop can drop quickly, especially during exercise, so pack a few of their favourite cereal bars or energy snacks that cannot melt/freeze/squash in their jacket pockets.
How to keep the costs down
Kitting your kids out for the first single parent ski holiday is expensive. But there are ways you can save a few bob, not least because your children will quickly grow out of some of their gear. Do you have friends or family with older kids who ski, or do you go to websites that sell preloved items? Ski gear is rarely well used as most kids ski or snowboard for one or two weeks a year before growing out of it.  Or you might have friends with kids the same age who skied during a different week – ask to borrow their ski kit! Have you taken up sewing during lockdown? You could make your own ski gaiters, travel neck pillow, toiletry bag, packing cubes, and face masks. Maybe you even have the skills for base layers? Sewing yourself means you can pick the correct materials and choose a fun pattern for the kids' clothes and accessories from Dalston Fabrics. Your new skill will also come in handy for sewing in name tags to prevent items getting lost at ski school. Your kids might not recognise their own new ski gear yet, and little ones are known to come back with the wrong mittens and goggles!
We hope our post has helped a little in preparing whether it's one of your first ski holidays with kids or you are regulars on the slopes. Being warm, dry, and comfortable are must haves if you want your kids to enjoy their family ski trip. So, investing into the right items will pay off,  and make all the difference to your kids' enjoyment and will save you a lot of stress and arguments. Have fun and let us know if you have any questions!